T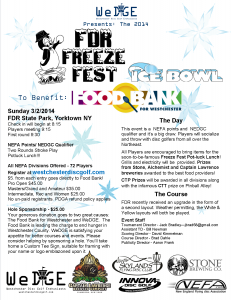 he FDR Freeze Fest is a charity event to benefit Food Bank for Westchester. The tournament is run in association with Ice Bowl.  Ice Bowl is a charitable organization that promotes a series disc golf events that are held each winter with an overall mission of raising funds to fight hunger. Related goals include having fun and connecting the disc golf community in a positive way to the community at large. Each year WeDGE runs two, The Kisco Klassic and The Freeze Fest.
There will be CTP's and other contests with prizes provided by local breweries and by Innova Discs.
This year we're adding a Pot-Luck Lunch to the Fest. Prizes from Alchemist, Stone and Captain Lawrence Breweries will be awarded to the top food providers.
For more information click on the flyer. To register go to Tourney Registration.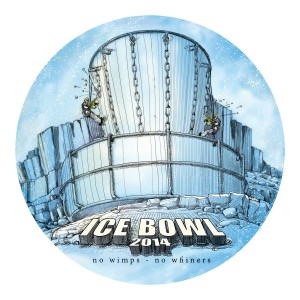 Please re-up (or sign up) with WeDGE. The fees from membership help us to continue our work improving and maintaining the courses in Leonard Park and FDR State Park. The tag that comes with your membership shows everyone that you support disc golf. They're great to play for casually but even better are the multitude of events throughout the year where tags are in play. We had a great season of Monthlies last year which we're hoping to expand in 2014.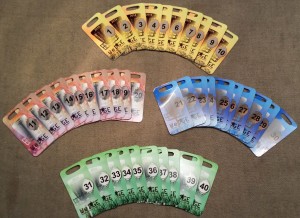 The Tags are in and they look great! They will be available at and after the Kisco Klassic Ice Bowl. As always the initial seeding of the tags will be from the results of The Klassic. If you can't make it out to the event we'll get you tag to you shortly thereafter.
Thanks for supporting WeDGE
Click here to go to Membership
FDR State Park Disc Golf Course will be closed on Sunday 12/8 for the annual FDR Doubles Tournament. Feel free to come watch, hang with the players between rounds or pick up some merch at the WeDGE Store!
Check in and get your Player Pack from 10:00am tomorrow. We'll be set up near the practice basket. Players meeting at 10:45. Right now it looks like Sunny, 48 degrees and a little windy at go time.
Don't forget, we're playing FDR Dubs after the race!
If you're not in the tournament you can still show up for dubs. I expect Doubles to go off around 2:00pm.

Check the Facebook page for updates.